Refrigerated Trailer | Cooler Trailers Superior Design & Results!
Small Refrigerated Trailers by Cooler Trailers
Cooler Trailers rugged and extremely professional construction design include a composite insulated truck body design that has proven to work in the transport refrigeration industry since the turn of the century.
Our standard models, 6'x8', 7'x12′ and 7'x16′ are the biggest in the industry and include full open rear double doors for easy loading, stainless steel door frame and hardware to keep the doors swinging for decades, polyurethane foam walls, and a pallet duty floor.
The single piece refrigeration unit is standard refrigeration that any basic technician can service and maintain.
The compact monoblock units can freeze or cool and provide a temperature range of -10°F to 70°F, are all electric and require only 115 volt and 13.5 amps to make the job easy so any household 15 amp plug is just fine.
Cooler Trailers Refrigeration Unit Features
 
Automatic Hot Gas Defrost
Tube And Fin Coils On Evap & Condenser
Pressure-Controlled Condenser Fan Regulation
Thermostatic Expansion Valve
404A Refrigeration System
Suction Line Cooled Compressor
Digital Temperature Controller

 

 

Cooler Trailers Custom Refrigerated Trailers

RUGGED CONSTRUCTION

For your next special events or delivery transport, our freezer trailers and cooler trailers are built to last. Our one-piece, fiberglass wall construction will not rust, scratch, dent or corrode.

All of our refrigerated trailers are built to withstand the worst outdoor elements and rigors of local or highway travel.

Same refrigerated truck body construction as larger refrigerated trailers and trucks.

Get the refrigerated truck experience & features without the price tag and more convenient than full-size refrigerated trucks or trailers.

All aluminum chassis ready to tow with a simple 2 5/16″ ball and hitch connection.

Best in class cold storage

 

HIGHLY CUSTOMIZABLE
All cooler trailers are built from the ground up to meet your storage space needs, allowing you to add custom options of most any type to your new refrigerated trailer.
From gas and diesel generators to hooks in the roof for portable meat cooler, we have the capabilities to design the perfect trailer for your storage space and temperature range application.
Choose accessories, such as:
Double & Single Doors

Moveable Bulkhead Wall

Loading Bumpers

Etrack

Freezer Curtains

GPS Tracker

Beverage Tappers

Gas/Diesel Generator

Many more…
Easy To Operate Freeze Or Cool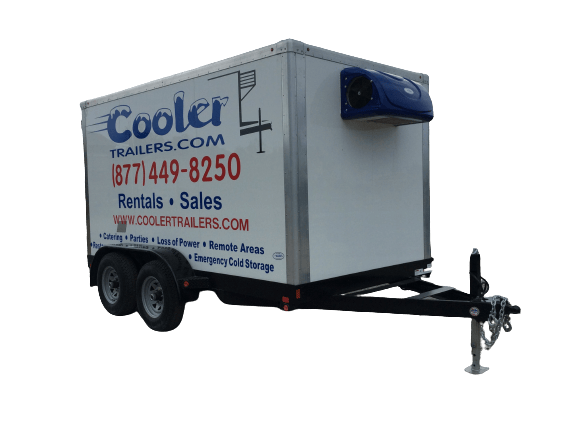 Convenient and Portable
Seamless Fiberglass Construction Four Inch Walls
115 Volt Refrigeration System
Different temperatures
Bumper Pull 2 5/16″ Ball Hitch Connection
Dexter 5200# Torsion Axles For Plush Ride
Cooler Trailers walk-in refrigerated trailers incorporates polyurethane insulation completely encased in composite fiberglass, both inside and out. This method provides superior structural strength since it forms a one-piece structure.
Our pallet duty floor is constructed of glass reinforced plastic tubes that are 70% less weight than steel but in many cases stronger.
The walk-in freezer trailers are completely weatherproof, NSF and U.S.D.A approved .
Cooler Trailers are designed to save you money by providing you the same benefits of a refrigerated truck without the cost of truck. Saving up to 70% off insurance cost alone,cutting operating costs, and reducing maintenance/repair costs.
Your unit will always look factory new with regular care and cleaning.
All Cooler Trailers come with a 1-year complete all parts warranty from the refrigeration to the truck body and chassis ensuring you superior durability even in the worst of weather conditions.
We also offer a long or short term lease on a refrigerated trailer, as an option for you as well.
The Perfect Cold Storage Space Back Up Plan
Are you prepared to handle an emergency situation like a natural disaster, power loss, or failure of your main walk-in cooler or freezer?
Would you like to deliver an amazing quality experience to your customers whether it's a load of ice or produce?