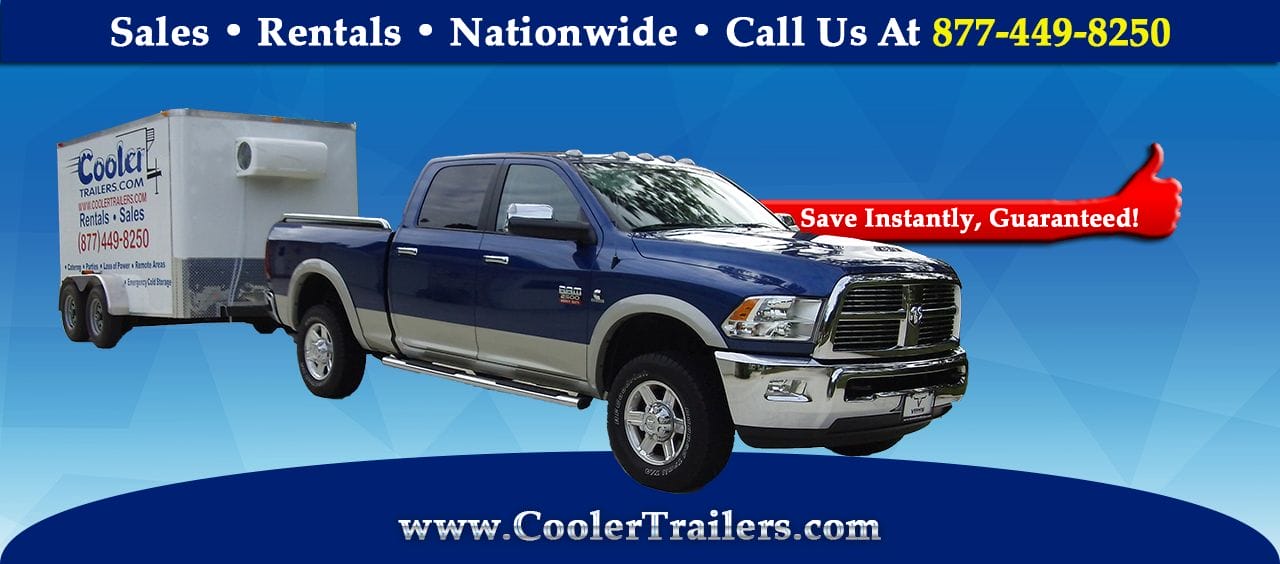 Refrigerated Trailer For Sale-Rent|Freezer & Cooler Trailers
What are Cooler Trailers?
Cooler Trailers are a revolutionary way to transport, distribute and store your frozen or refrigerated product. Our 115 volt units are able to freeze or cool with just 13.5 amps, making your job easy. These small portable refrigerated and freezer trailers are amazing in versatility and simple to use. Cooler Trailers offer sales and rentals Nationwide and have been featured in USA Today, Wall Street Journal, ABC, NBC, CBS, CNN Money, FOX, Discovery Channel and Refrigerated Transporter.
Our clients include small businesses to the largest Fortune 500 companies. Cooler Trailers have been involved in several Superbowls, PGA Events including 2014 Masters in Augusta, touring Rockstars and Extreme Makeover home Edition. ?Also used by local and state government, several schools, police departments, FEMA, Feed America, Red Cross and churches for disaster relief aid. Checkout Cooler Trailers YouTube channel for more videos.
Learn more here:
"After alot of research, I decided to buy my Cooler Trailers because it was by far the most cost effective way for me to transport my fresh local seafood."
Steve Moore - Camarillo, California
Why do some people succeed at levels beyond their imagination, while others struggle? It comes down to having the right tool for the job. Are you ready to take your business to the next level? We have been helping small businesses and Fortune 500 Companies skyrocket their bottom line since 1998. Let's get started Today!
WORLD'S GREATEST BUSINESS OPPORTUNITY
CASH IN ON THE NEED FOR SMALL REFRIGERATED TRAILERS IN YOUR AREA NOW!!
Cooler Trailers are looking to expand their network and increase your net worth. Can you imagine starting a business with little to no competition in your area. Especially with something as popular as portable refrigeration and cold storage. The demand is great and so are your possibilities?
NATIONWIDE RENTALS
LET US KNOW WHERE YOU ARE LOCATED AND WE WILL GET YOU HOOKED UP WITH SOMEONE IN YOUR AREA.
Have you ever?needed extra refrigeration for an event or just need short /long ?term cold storage. Our rental fleet is mostly 7?12 110 volt units. Click on the button now and we will get you to the nearest rep.
Featured Posts by Cooler Trailers