Refrigerated Box| Best Aluminum Small Freezer Truck Body Cooler Trailer
Refrigerated Truck Box
The concept of refrigeration for transport started as early as 1842. Ice was put on train cars to keep the food cold. A refrigerated box truck was first rolled off the assembly line in the early 1900s. However, this was not enough to keep the food cold.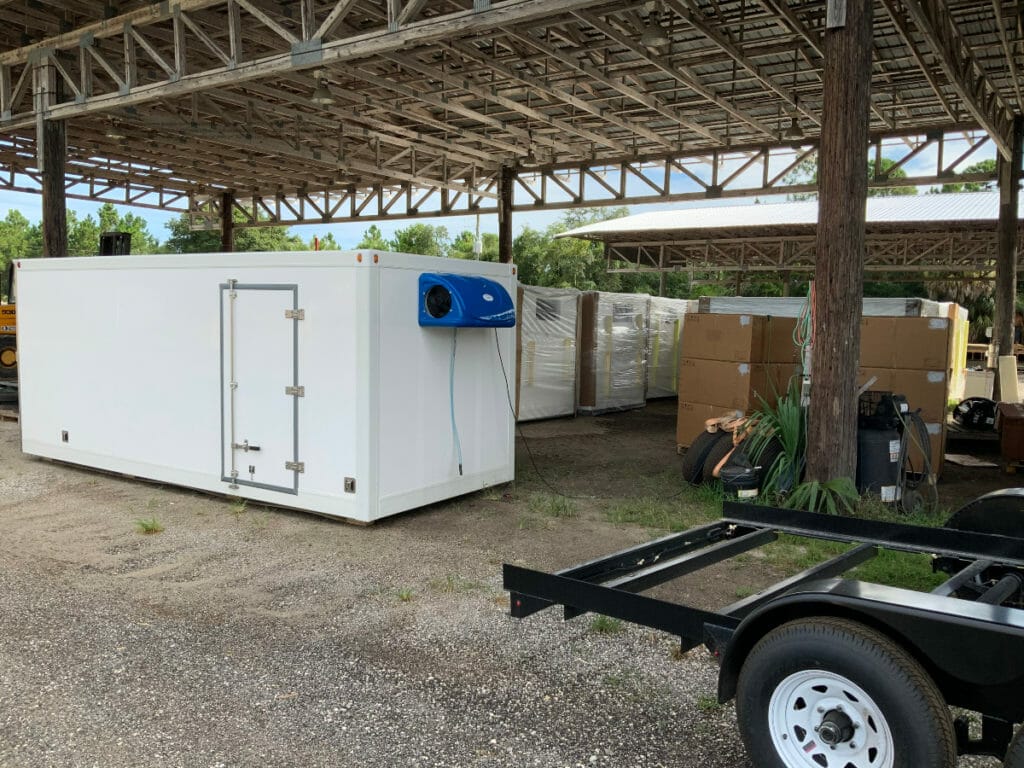 The options were slim in those days, it was impossible to send fresh fruit and vegetables more than 50 miles away from their source. Moreover, milk and beef were often shipped live to slaughterhouses.
Refrigerated containers were critical for long hauls but then smaller versions came on the scene to make the final mile deliveries possible.
Fortunately, this is no longer a problem in the industry today. The invention of the refrigerated truck body has changed the transportation industry forever.
Today most companies will run a refrigerated truck body on a truck chassis for 200- 300,000 miles then take it off and put it on another chassis and run another 300,000 miles before they retire the truck body.
Over the years, improvements in composites and technology have made the refrigerated truck body lighter and stronger and easily designed for 15-20 years of use.
Refrigerated Truck Bodies
Refrigerated truck bodies come in different shapes and sizes. Most people are familiar with the 53-foot long, 102-inch wide by 102-inch tall refrigerated trailer.
This style of refrigerated truck body can be pulled by tractor-trailers or straight trucks and handle payloads up to 44,000 pounds.
There is also a strong demand for smaller loads and the need for vehicles to get into small areas and still provide the level of build excellence that a refrigerated truck body provides.
Our style of refrigerated truck bodies can be pulled with any simple pick-up truck or car and handle payloads up to 8000 lbs.
What Is A Refrigerated Box?
Answer:
A refrigerated box is an insulated container that uses refrigeration to keep products cold while in transit. There are many different types of refrigeration systems but the two most common are absorption ( ammonia) and mechanical (compressor).
It's a walk in cooler or freezer on steroids and providing a business another effective option for transporting product to their customers.
How Much Does A Refrigerated Truck Cost?
Answer:
The price of a typical new 16′ refrigerated truck can vary greatly depending on options but generally will run north of $100,000 and availability is a problem too.
Most businesses struggle with making that type of investment ROI (return on investment). Our goal with Cooler Trailers was to provide the same build quality but on a small trailer chassis, saving tens of thousands of dollars immediately and 75% off on insurance and maintenance also.
How Cold Do Small Refrigerated Trailers Get?
Answer:
So many critical variables come into play like insulation type, door seals, door frame, refrigeration and truck bodies build.
Cooler Trailers 7×12 small refrigerated trailer consistently hit -10 degrees Fahrenheit in June, July and August here in Ormond Beach Florida.
Perfect for everything from farmers produce to ice cream and everything in between.
Refrigeration Units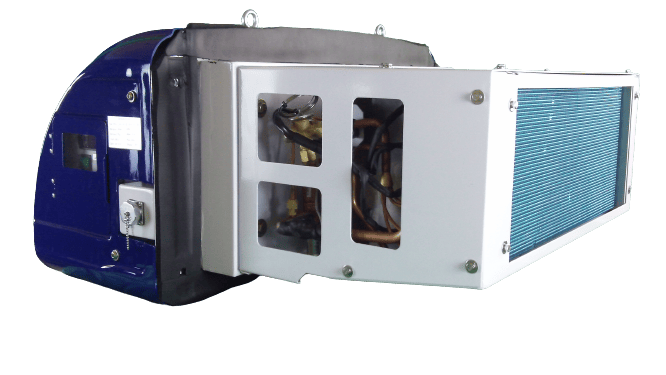 Our 115-volt refrigeration unit is an excellent thermo king alternative. It plugs into a standard electrical outlet and will keep our 7×12 refrigerated body between -10-60 degrees Fahrenheit.
It is important to remember that the refrigerated truck body needs to be plugged into a generator while in transit for the refrigeration unit to operate and that is why we extend our trailer tongue and provide a platform for the generator.
Refrigerated Box For Truck
The most important consideration when buying a refrigerated box for truck is the size of the cargo area. Is your product going to be on a pallet or will you hand stack.
The final mile delivery service business has exploded in recent years and new technology is helping business owners find better solutions for their perishable products.
Refrigerated Box For Trailer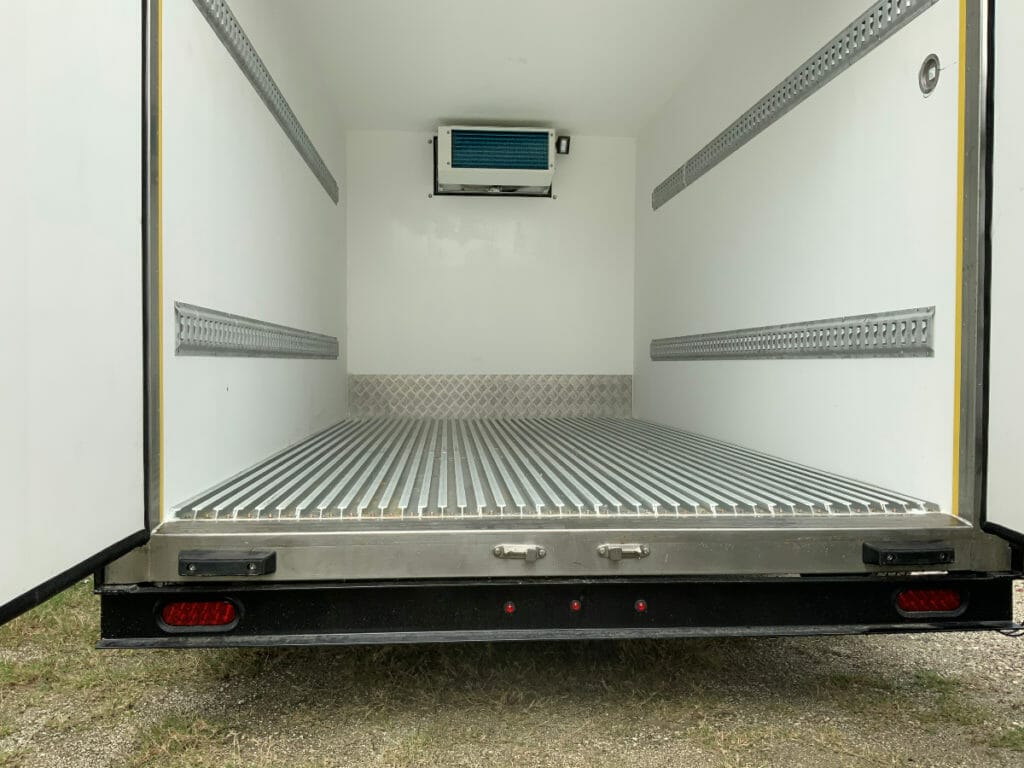 Superior design will get you superior results every time. A properly designed refrigerated body with composite panels, stainless steel door frame, pallet duty floor with aluminum trim, NSF and U.S.D.A wall coverings will keep your customers and the inspectors happy for decades.
Unfortunately, there are still some businesses that buy retrofitted refrigerated cargo trailers and suffer major issues like mold and mildew, corrosion, doesn't cool enough because no E.P.D.M. door seals, etc.
A refrigerated box for a trailer is an excellent way to save over a refrigerated truck. Much better value and save 75% on insurance and maintenance.
We finish our refrigerated body off by installing it to a customize all aluminum chassis with dual 5200 lbs. torsion axles for the best results and performance.
How To Make A Refrigerated Box
We start with composite panels that have glass-reinforced plastic tubes internally that are strong but light weight and an aluminum pallet duty floor.
The walls and ceiling are polyurethane foam with U.S.D.A. and NSF approval.
The double rear full open doors have a 304 stainless steel door frame with stainless steel hardware to handle 15- 20 years' durability of door openings.
Our 115 volt single piece reefer unit is the perfect thermo king alternative and any basic refrigeration mechanic can maintain and service. Won't get that with thermo king.
Once the refrigerated body build is complete we are ready to install on our custom all aluminum chassis with tandem 5200 lbs torsion axles that will provide up to 8000 lbs of cargo a plush ride.
We hope this gives you a better understanding of what a refrigerated truck body is and some of its capabilities. If you have any further questions or would like to learn more about our products, safe transactions wallets with low fees please don't hesitate to contact us today. We look forward to hearing from you soon!
Call Us Today! 877-449-8250