Small Refrigerated Trailer For Sale
A quality refrigerated trailer can be the difference between a successful company and one that goes belly up. The refrigerated trailers you choose to purchase will determine how much money you make, which is why it's important to know what features are most important when buying your next refrigerated trailer.
The best refrigerated trailers are designed to last 15-20 years or more. They make it easy for the professional that needs to store, deliver or distribute frozen and refrigerated products.
Companies know superior design will always get them superior results for years to come. Our trailer is built to stand up against the demands of constant use in the most challenging environments.
These are the top 5 features of refrigerated trailers (in no particular order). All of these details should be taken into consideration before making your final decision about what kind of refrigerated trailer to buy.
Top 5 Features The Best Refrigerated Trailers Have:
Insulated truck body style box (engineered floor for strength)
They are engineered for strength and durability. Insulated truck bodies were introduced to the market in 1925 for the ice cream industry. So for 90 plus years their sturdy construction with corrosion resistant materials makes them great to store your perishable items in.
We use composites today in our cooler trailers that are lightweight and way stronger. Thanks to their high insulation value, they also keep your food at the right temperature for the journey.
They are a solid investment that will last for many years to come, while at the same time protecting all of your products from heat or cold damage.
The great thing about a bumper pull refrigerated trailer unit is that it's easy to hook up and has a low turning radius for getting around the city.
In addition, they meet all the necessary health and safety requirements. With its smooth, non-porous surfaces, this style of truck body is easy to clean and disinfect. It's also impervious to insects, rodents, and other pests that can contaminate your food supply.
Stainless Steel Door Frame
You might think that the most important thing about stainless steel is its resistance to corrosion. However, the ability to resist corrosion is not it's only benefit.
Stainless steel door frames on refrigerated trailers are also much easier to clean and sanitize than those without a frame. This is because dirt and debris can accumulate in the crevices of a small refrigerated cargo trailers door area, creating an ideal environment for bacteria growth.
A stainless steel door frame on a truck body prevents this by keeping grime out of the door's small crevices.
Stainless steel also offers security benefits because it is extremely difficult to cut through with standard tools, unlike aluminum or other metals that are easy targets for thieves.
The best performing grades of stainless steel can't even be cut with an oxyacetylene torch. This makes stainless steel a great choice for a small refrigerated  trailers door frames and other security-sensitive areas on the truck body. When it comes to refrigerated trailers, stainless steel is the clear winner.
115 Volt Refrigeration Unit (Hot Gas Defrost)
This is an industry standard for Fortune 500 companies to ensure the high quality of their products in transit. It also ensures product safety by continuing to keep perishables cold while being transported. Make sure to find a trailer with this feature if you're looking for the best quality.
This type of unit circulates hot gas
internally
through the coils to defrost them. This is a more efficient way to defrost than using external electric heating elements, which can take a long time and use a lot of energy. It's also faster than relying on the ambient temperature to do the job, which can put your product in danger.
EPDM Door Seals: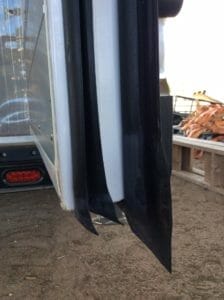 EPDM means Ethylene Propylene Diene Monomer. It is a type of rubber that has been used to make door seals since the early 1960s because it has very good chemical and heat resistance properties. 
The EPDM seal on the door of a refrigerated trailer is usually made up of two parts: the gasket and the closure. The gasket is the part that goes around the edge of the door, while the closure is the part that attaches to the frame of the trailer and holds the gasket in place.
The gasket is what creates the seal between the door and frame, so it has to be made of an epdm material that can withstand temperature changes.
This seal is important because it keeps the cold air in the trailer while in operation. If the seal was not there, the cold air would escape and the refrigeration would not work efficiently.
Separate Bumper Pull Frame chassis for insulated box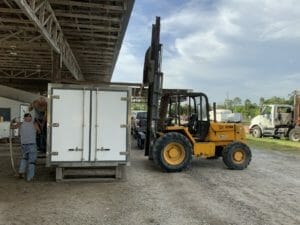 The key here is to have a separate trailer chassis from the box. That means that your insulated body will be completely sealed and especially the floor which can never be fully sealed on a refrigerated cargo trailer.
A heavy duty steel frame is a must to carry the insulated truck body and cargo for years to come. An aluminum chassis is an option that can save you from both weight and corrosion.
Two axles are better than one! Having two axles allows you to carry more cargo, distributes the weight more efficiently and provides you safety. If you have a blowout on a single axle trailer it's going to be a bad day.
Speaking of tires, make sure they have radial tires not bias ply. Radial tires last longer and have stronger sidewalls to carry your load safely.
Small refrigerated trailers are an excellent way to transport, store, or deliver temperature sensitive products. They are the perfect size for special events. We recommend getting at least two. One for your business and one to rent!
The rental market for these are in hot demand in your area. This is a billion dollar industry and growing. Just look at all that has changed in the last few years. We aren't going back to sprinkling salt on these products.
Freezer Trailers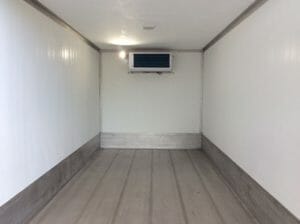 A freezer trailer will magnify the need for all the above features to work in harmony to achieve the coldest temperatures. Without them you will have subpar performance and just a refrigerated trailer.
Cooler Trailers slogan is, superior design gets you superior results all day long! Our trailers and the 115 volt unit will get to -10 Fahrenheit in June, July and August in the Florida heat.
As you can see there are many options available when purchasing your refrigerated trailer of choice! The more features that are included on the unit will mean a higher price tag for sure but if you're looking to take your business to the next level, it's definitely worth the money especially for resale value.
In conclusion, a refrigerated or freezer trailer is only as good as its weakest link. Make sure all the features are in place for you to get the best performance and longest life out of your investment!
Refrigerated Trailer
A new refrigerated trailer from Cooler Trailers will get your business growing in the right direction for years to come. These amazing coolers are extremely professional  and perfect for restaurants, florist, meat markets, special events, etc.
If you transport meat, seafood, flowers, produce or anything that needs to maintain between 0-40 degrees Fahrenheit, our single piece refrigeration with a built in temperature controller allows you to set different temperatures for your product.
Transport refrigeration is a billion dollar industry and one that is very profitable if you have the right equipment. If you are looking to purchase quality construction that will last for years, you are at the right place.
Our local office is in Ormond Beach, Florida but we serve the entire U.S. for refrigerated trailer rentals. For more info contact us today so we can start building a new refrigerated trailer for your business.